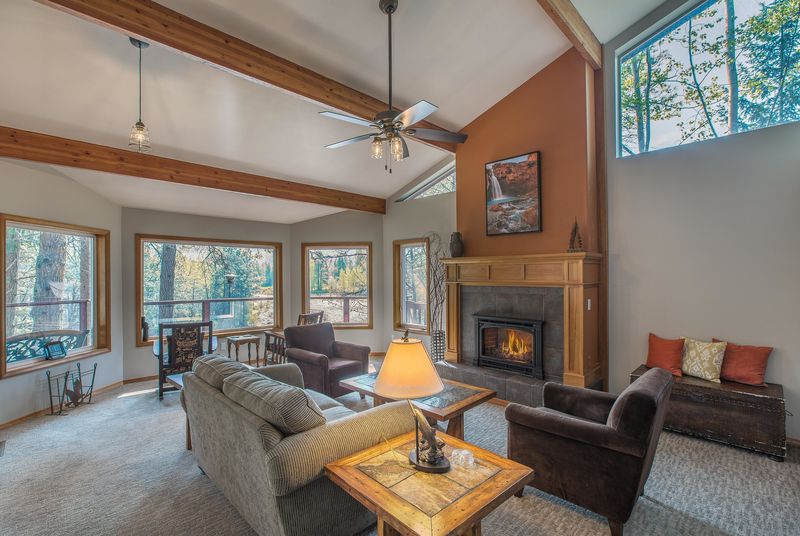 VIEW GALLERY
The Colorado Suite at All Seasons River Inn brings an inspiring, innovative new idea in the vacation rental experience that you're sure to love!
The inn, overlooking an absolutely outstanding full view of the Wenatchee River, features seven very beautifully and uniquely designed suites that can be booked individually, or together as a block. Each suite is named after a well-known river, and follows the theme of that location in its design and decor.
The Colorado Suite is the largest of the suites, and is ideal for a couple or a small family– or it can serve as the perfect central gathering place when the inn is booked as a whole unit. Styled after the beautiful Colorado River, this very beautiful and spacious suite is an unbelievable experience in itself!
The Colorado Suite has several outstanding features, including a large living room with breathtaking views of the river rushing below. A lovely big fireplace is the focal point of this perfect gathering place, with decor and artwork that beautifully create the unique atmosphere of rugged Colorado.
A large deck is set off the dining room, where the absolutely breathtaking river view creates an unbelievably peaceful place to relax and unwind. The very large and attractive, well equipped kitchen is sure to become a favorite place for meal preparation.
A family den/ sitting area houses a very comfortable queen-sized American Sleeper sofa, a perfect place for children or a second couple to stay. The bathroom located off the den features a double sized shower. Meanwhile, the beautifully decorated Master Bedroom suite itself features both an en suite jacuzzi tub with a roomy upholstered bench, as well as a double walk-in shower.
The inn itself is located only a mile from downtown where there is a plethora of shops, fine dining, and many restaurant options.
With the outstanding outdoor recreation right here in this very area, the Colorado Suite is a fantastic place to stay for skiers, hikers, golfers, and recreation enthusiasts. It's also perfect for couples who want a very special place to stay when they come to see the town's outstanding festivals or shows. For those in need of a quiet, cozy, highly attractive vacation spot with an absolutely fabulous river view, this peaceful setting is among the very best!

Looking for a larger space? You can now rent the whole inn for your wedding party, family or corporate retreat. The Inn sleeps 20 and offers the best private river experience around! Also ask about the Inn's sister property, nearby White Water Lodge https://www.destinationleavenworth.com/white-water-lodge, which can add even more accommodation and event space.